Massage Gun Body Deep Muscle Massager Fascia Physiotherapy Massage for Massage Relieving Pain Workout Fitness Machine

Product Description
iEase Percussive Massager XFT-2020V is a portable mini deep tissue stimulator that delivers a series of speedy blows and penetrates deep into soft tissue to promote blood circulation, reduces muscle soreness and enhance tissue repair. We always ask if massage guns are really beneficial to use? In general, the principle used by the fascia gun -- percussion massage therapy is beneficial to everyone.For athletes, massage gun can speed up warmup and recovery. Also, if you sit at desk all day with a soreness neck and back, this percussive massager can help you relax your muscles and promote circulation.
Features
Easy to use
iEase is intended to offering a comfortable feeling of a good self-massage experience so that everyone can exercise better. Thanks to its lightweight and durable ergonomic design, you can use iEase XFT-2020V more conveniently at anywhere.
Quiet and Portable
Seamlessly change the head attachment and you can adjust the speed from 1200rpm to 3200rpm, with 4 replaceable massage heads for your favorite massage option while you are enjoying it.
Feedback in Time
Built-in the pressure sensor provides visual feedback throughout the massage in real-time to ensure your massage is more accurate.

Functions
Make Your Therapeutic Sessions Quicker
The iEase XFT-2020V Percussive Massager is engineered in pursuit of comfortable. It can help you in more aspects than one. You can get health benefits of iEase massage gun include the followings:
Promotes blood circulation Activates muscles
Maintain muscle mobility Qucikly release lactic acid
Shape body Relaxing deep tissue muscle
Improve body balance Reduce soreness
Release fatigue Accelerate muscle recovery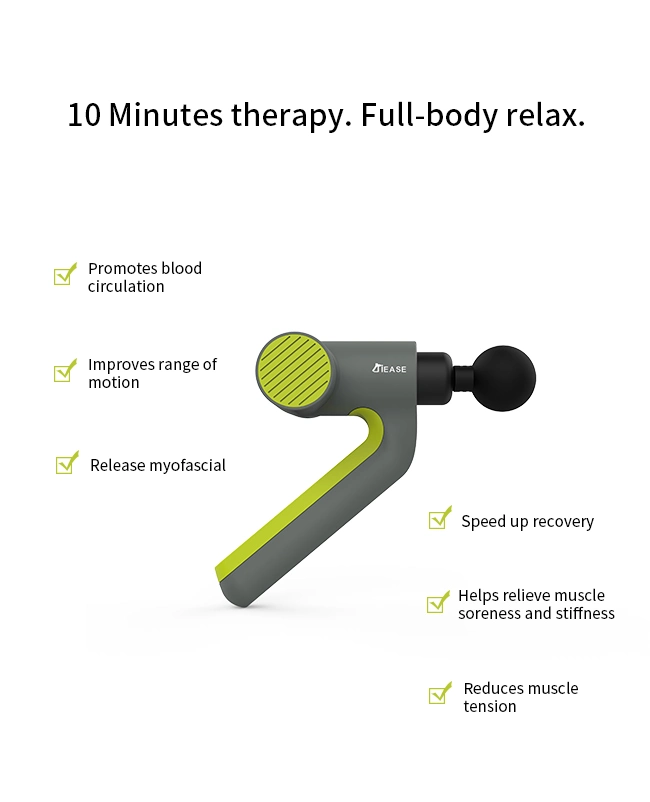 4-speed High Frequency Deep Massage Therapy
The iEase XFT-2020V Massage Gun equips with 4 speed options, 4 adjustable speed levels vary from 20Hz, 30Hz, 40Hz to max. 53Hz, corresponding to 1200, 1800, 2400, 3200 revolutions per minute.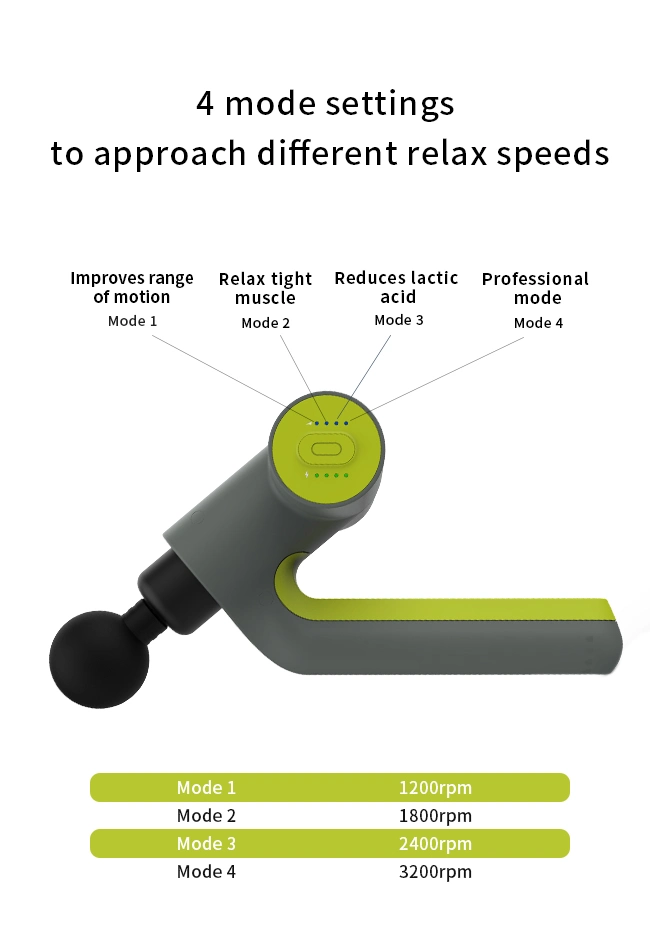 Portable Allows One-hand Hold Effortlessly
Weighing in at just 0.9kg, the iEase is ergonomic, lightweight and durable, allows you to take it relax on-the-go.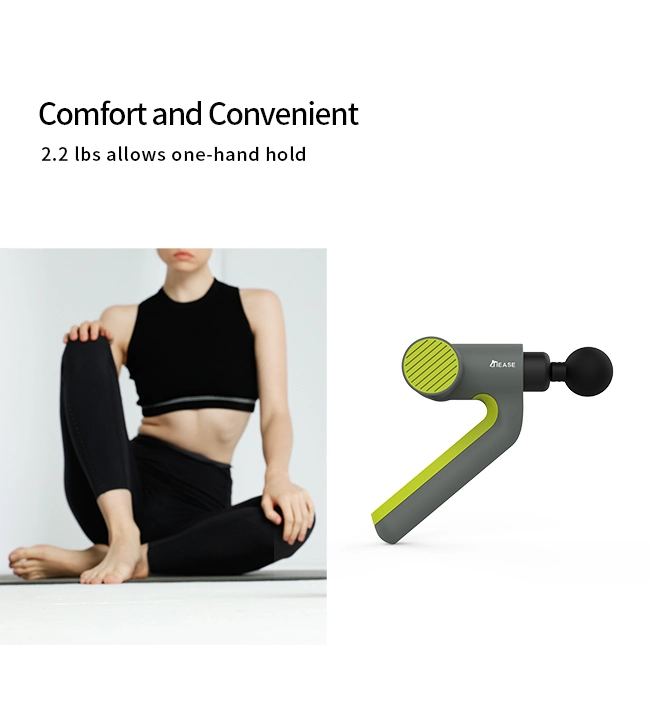 12mm Amplitude Easily Target Any Deep Tissue Muscle
Features with high frequency vibration can penetrate 12mm deep muscle groups easily that helps relax sore muscles.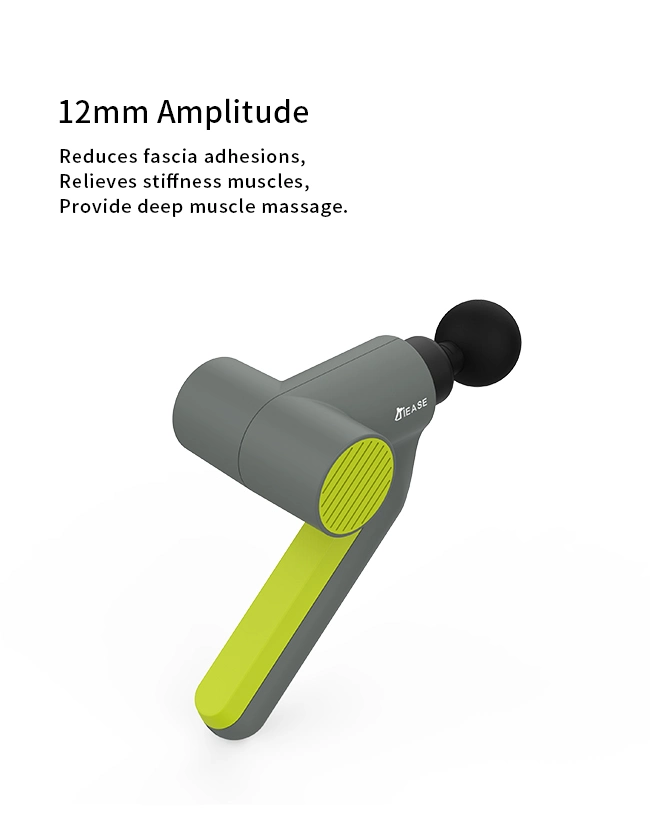 High Performance Battery
Rechargeable lithium-ion battery supports about 7 hours working on a 2-hour full charge.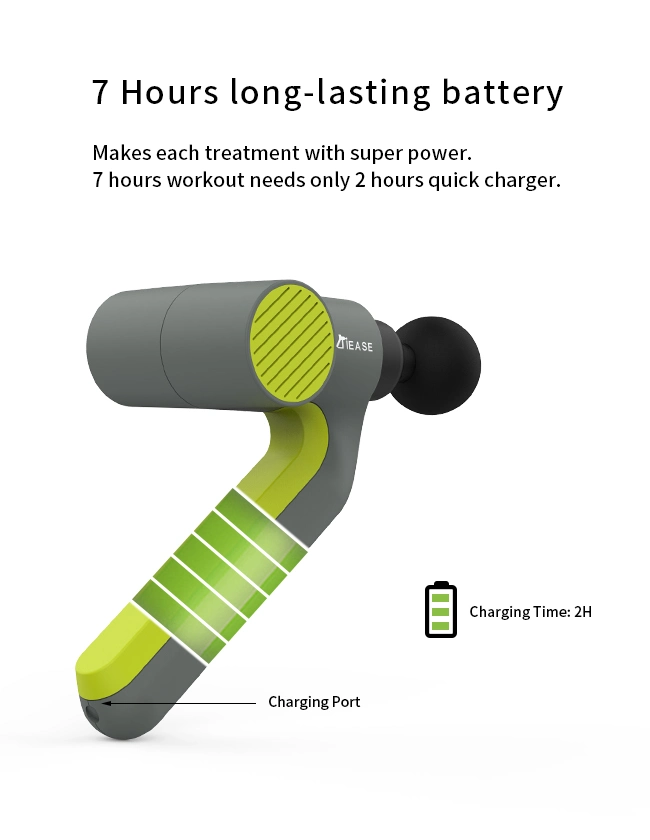 The Certified Recovery Massager You're Looking For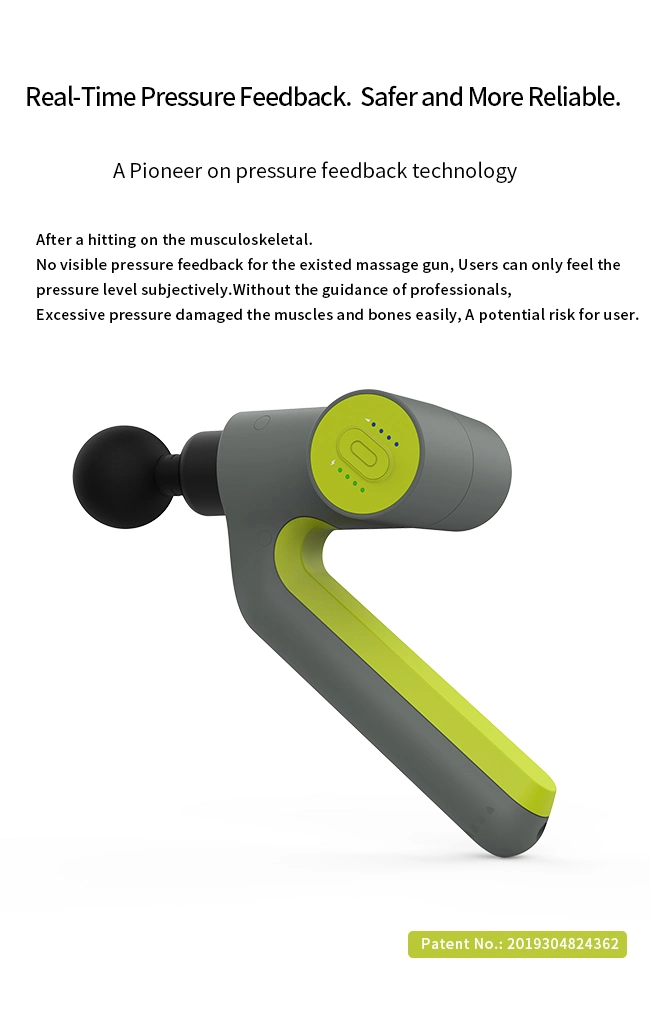 10 Minutes Safe Intelli-protection
With integrated design will be automatically off after 10 minutes use to protect you from injury.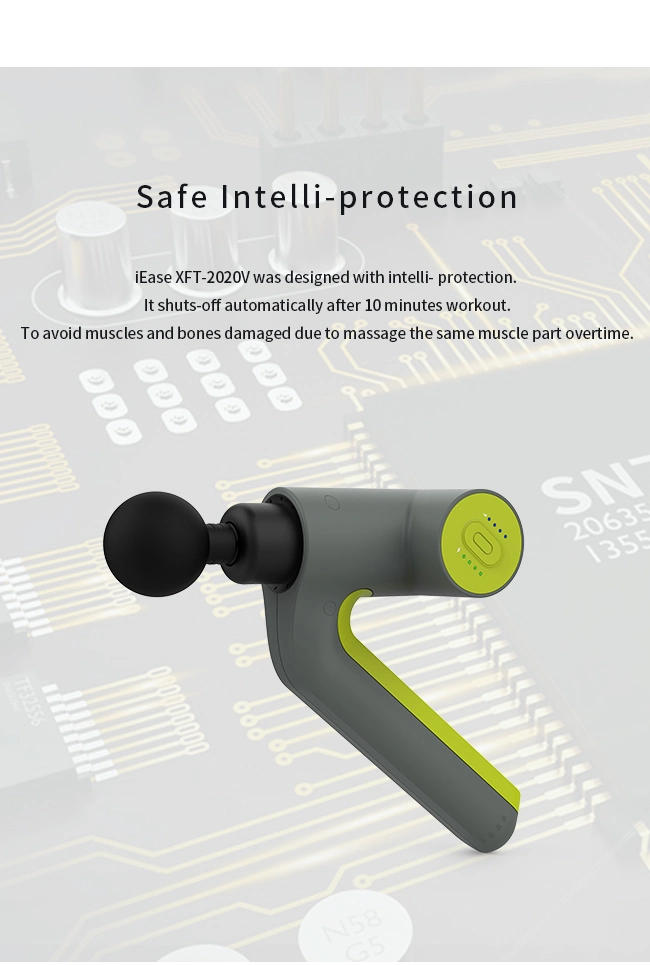 Upgraded Dynamic Balance Quiet Technology
Up to 3200 percussions per minute but no more than 45dB, will not disturb sweet dream.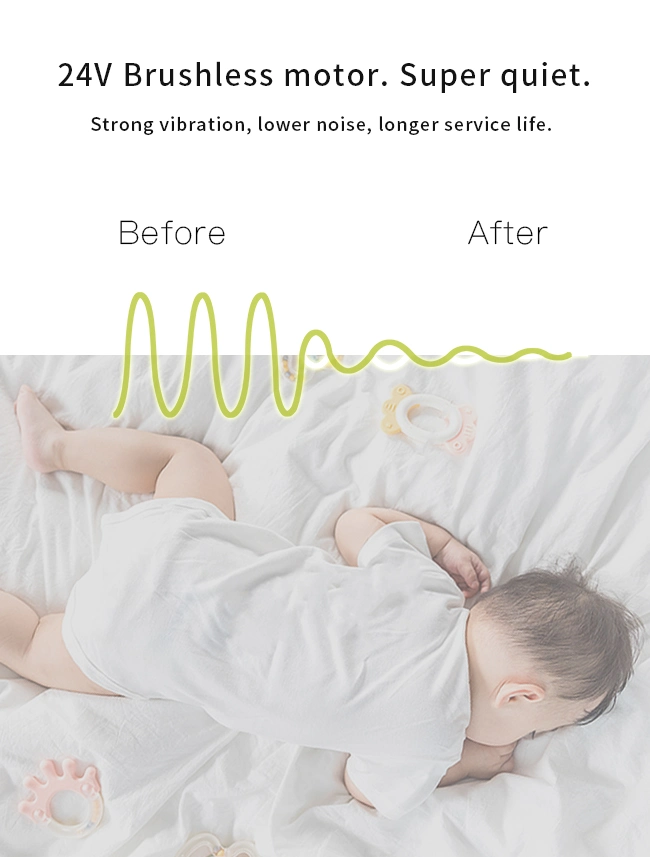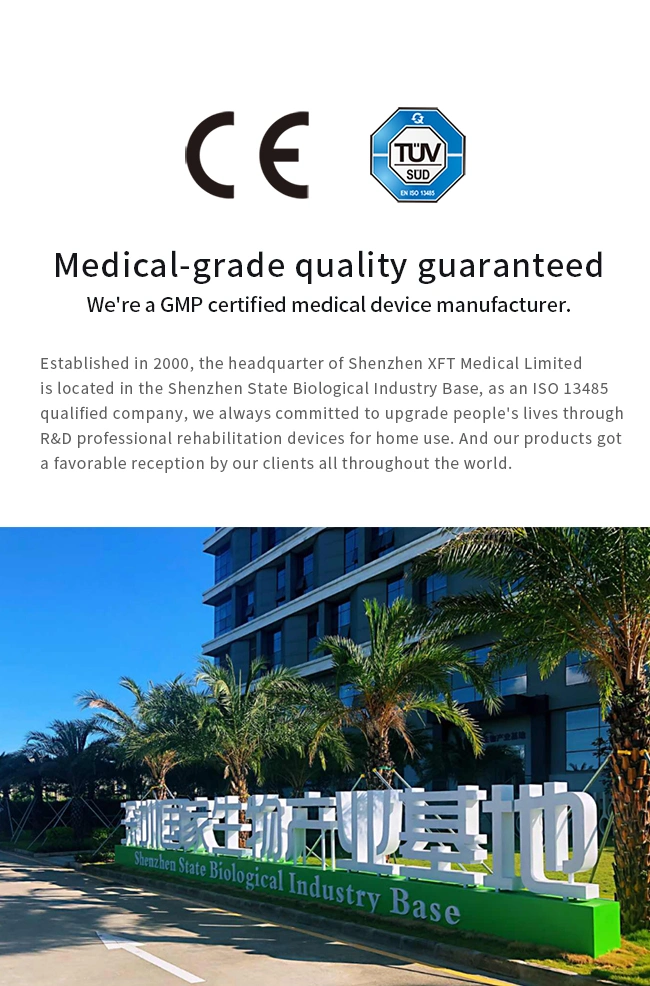 Choose US, Choose Superb Quality and Competitive Price
1. Professional manufacturer. Welcome to visit our website: https://xftmedical.en.made-in-china.com/.
2. OEM/ODM service is available:
1) Customized logo on the products.
2) Re-design the package.
3) Customized function or outlook of the prdoduct.
4) Any your ideas on product are welcomed and we can help you to design and put it into production.
3. High quality, trendy designs, reasonable & competitive price, fast lead time.
4. After-sale service:
1) All products will be strictly Quality Checked before packing.
2) All products will be well packed before shipping.
3) This iEase percussive massager have 2-year warranty.
5. Faster delivery:
Sample order will be delivered in 1-3 days , large quantity will be delivered in 5-12 days.
6. Payment:
You can pay order via: T/T.
7. Shipping
We have close cooperations with DHL, TNT, UPS, FEDEX, EMS, China Air Post.
You also can choose your own shipping forwarder.