Compression therapy Leg Waist Arm Massager Cuff Sleeves Leg Massage Blood Circulation
Pressure Recovery Boots Air compression Body Leg Foot Air Waist Vest Cuffs Sleeves
4/6/8 chamber Air compression foot leg arm waist massager cuff sleeves boots factory
Air relax compression Vest Leg Waist Arm massager cuff sleeves leg massage blood circulation
Recovery boots Body negative pressure wound therapy devices system
Introduction:
Air compression therapy system is a high class lymphatic drainage and Spa natural health beauty machine in medical and beauty market . In beauty market , the compression mode have a soft massage from the foot to heart , it is sliming treatment by drainage dissolved fat cells or bad deposit. In medical market, it has a sequential squeezing from the distal to proximal, thus help to improve the circulation of blood and lymphatic ,prevent the DVT and PE , trauma , inflammation ,edema relief.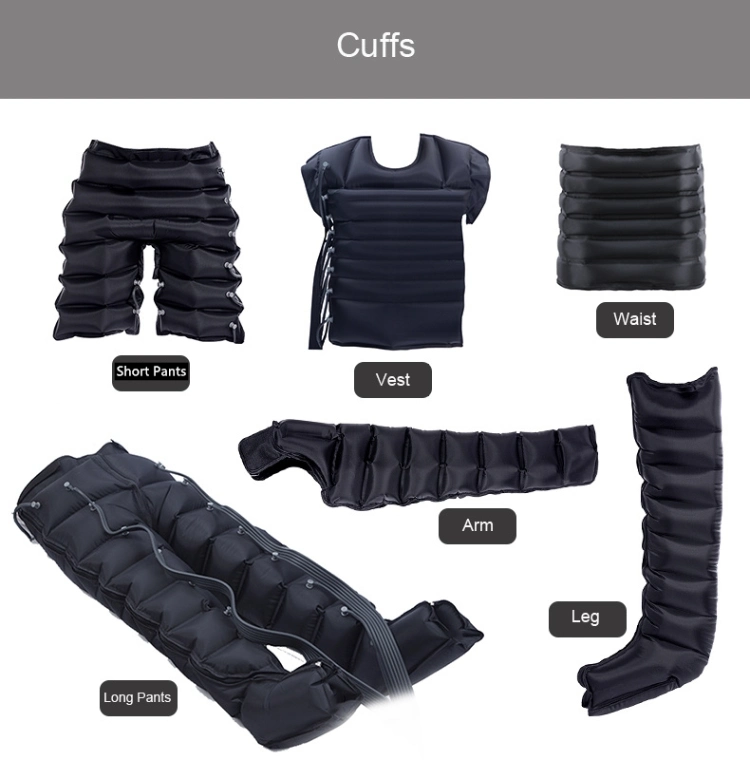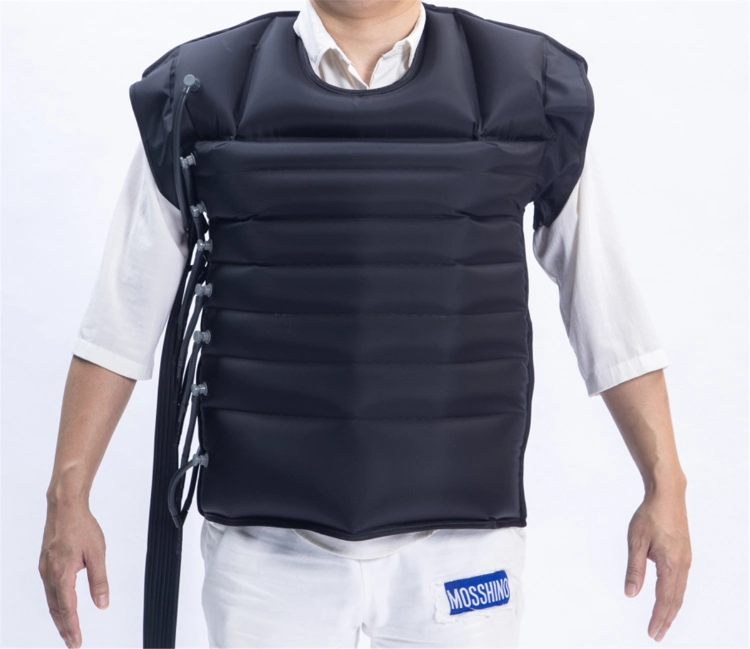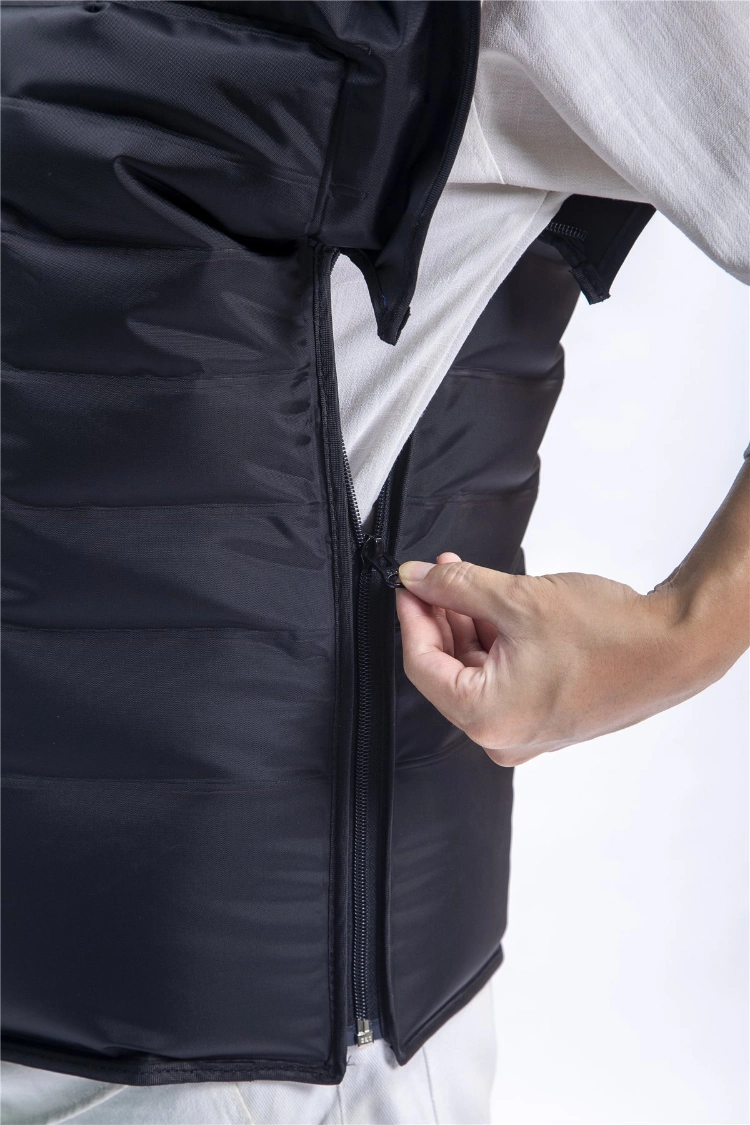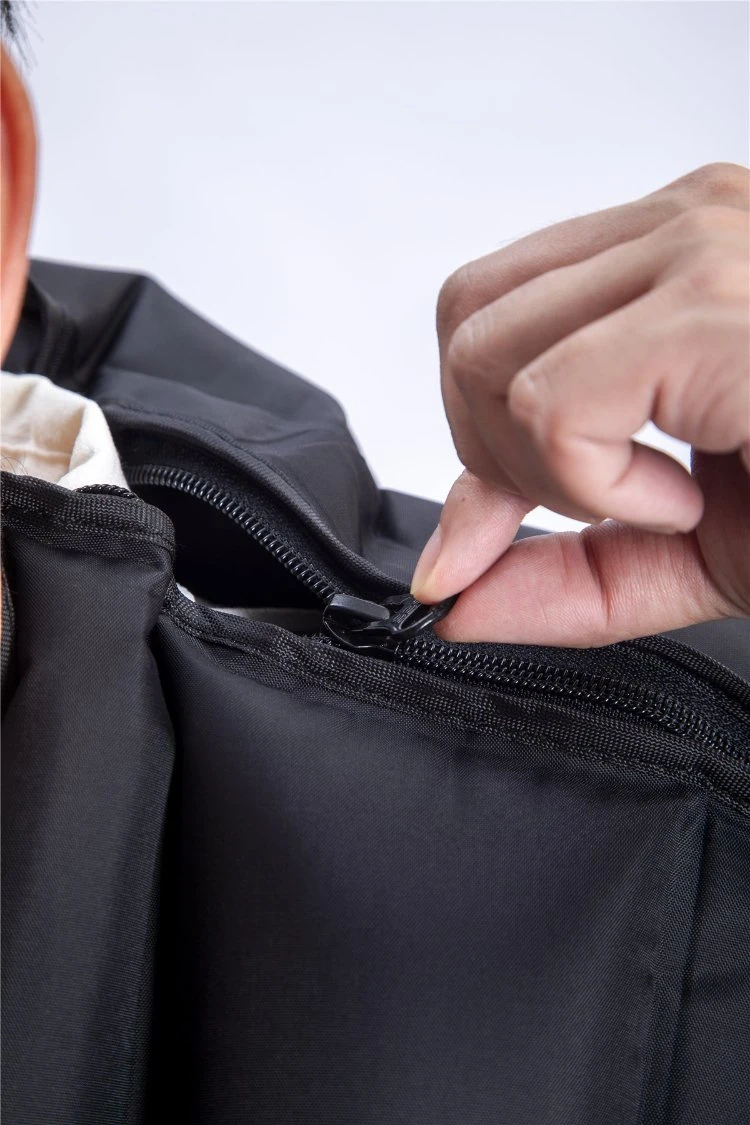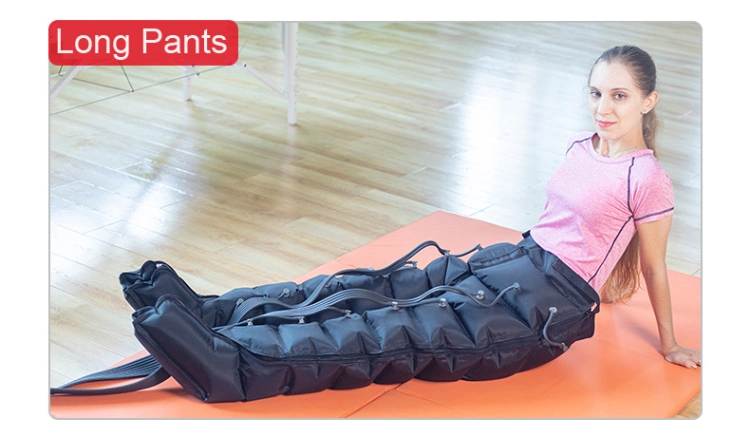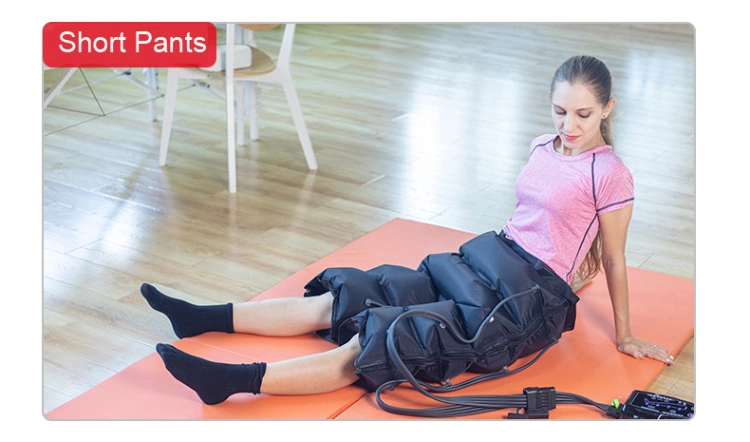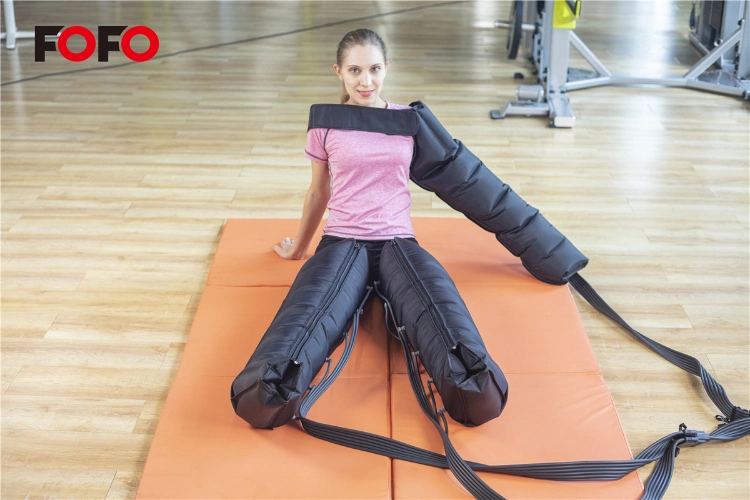 Product Detailas
PumpSpecification:
Pump Specification:
Size:24cm(L)*20CM(w)*11cm(H)
Power consumption:30W
Input voltage:110V 60Hz:or 220V 50Hz
Pressure range:20-250mmHg
Treating time:1-60mins
Feasures: FO3001(Digtal) each chamber can be partially skipped.
Visible screen can know current pressure and left massage time.
Cuff size:
Arm cuff:
M:87*51cm
L :90*60cm(overlapping)
Leg cuff
M:91X65CM
L:100X74CM
XL:110X70CM(overlapping)
XXL:125X76CM(Overlapping)
Waist cuff
M:120*37cm
L:130*37cm
Extension
Width 10 cm (for leg cuff)
Feature
Device Size:
24cm(L)*20cm(W)*11cm(H)
Massage mode:
A/B/C/D/E/F six mode
Pressure Range:
20-250 mmHg
Treatment Time:
10-30 mins
Power consumption:
30 W
Each chamber can be partially Product Detailas
Machine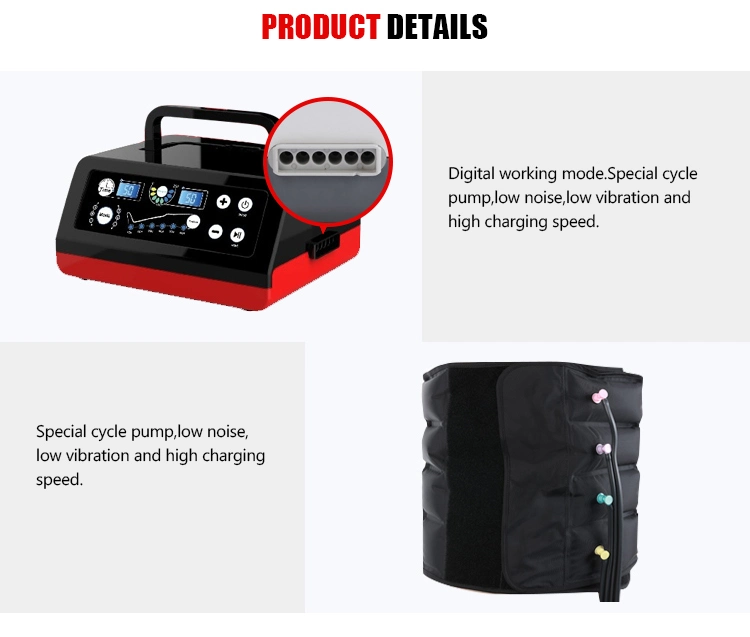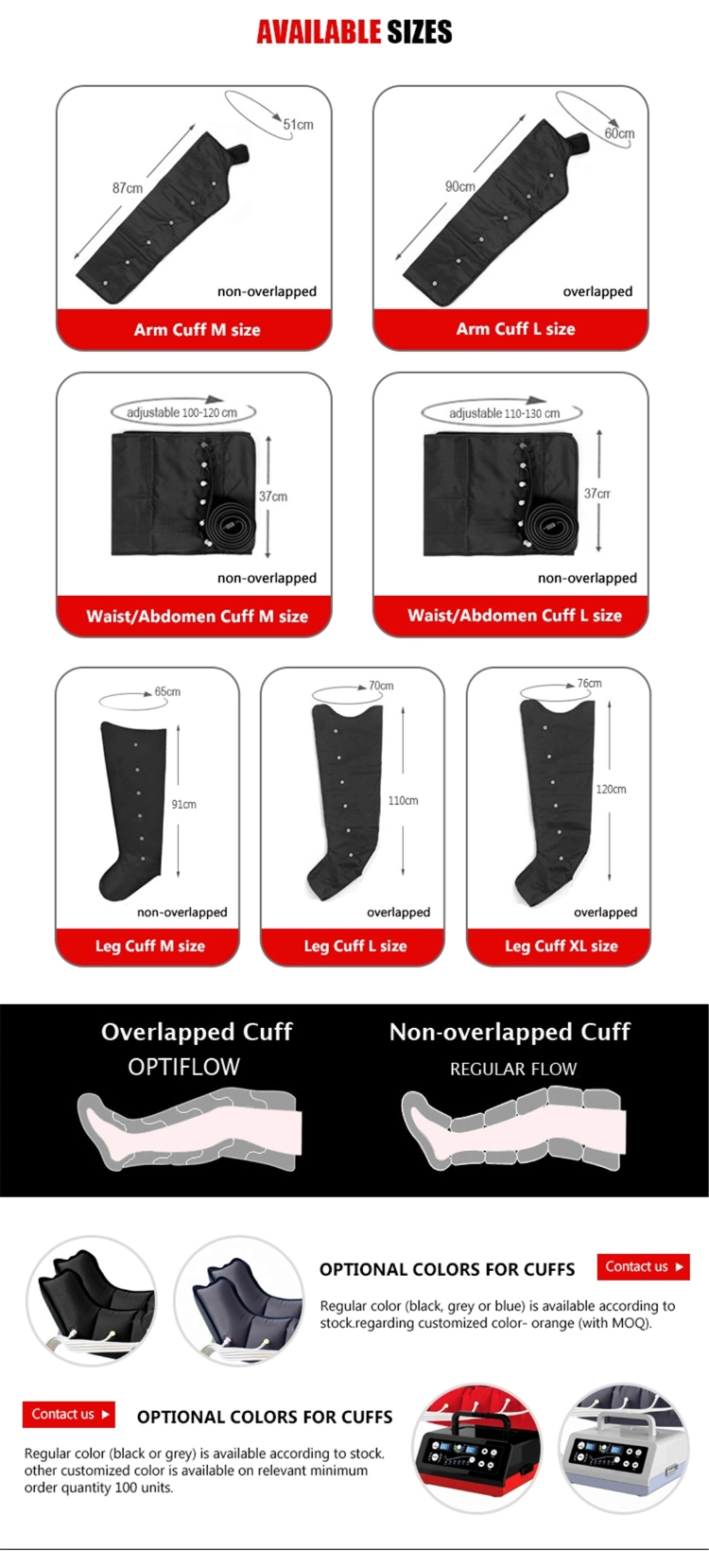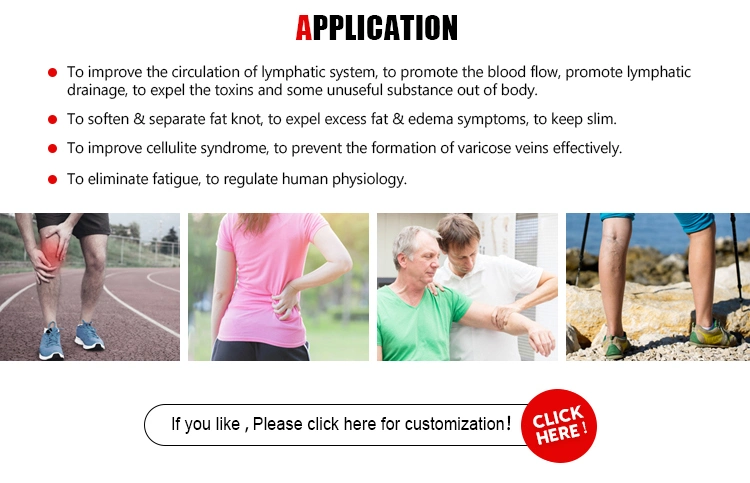 Compressible Limb Therapy system
Vitalized the circulation of blood and lymph in arms and legs and enhances the pressure of muscular tissues to remove swelling or pain . It helps to recover patients physical functions fro disabilities or agedness .
Help a pre-workout to loosen up muscles and a post- workout to help muscles recover by ridding them of lactic acid build-up.
Prevention and treatment of various diseases related with the blood circulation in arteries include lymphedema
Air compression device promotes the circulation of blood and body fluid .